FORT ST. JOHN, B.C. – A Tax Help Workshop is being hosted by Money Savvy Women of Fort St. John, this Thursday evening.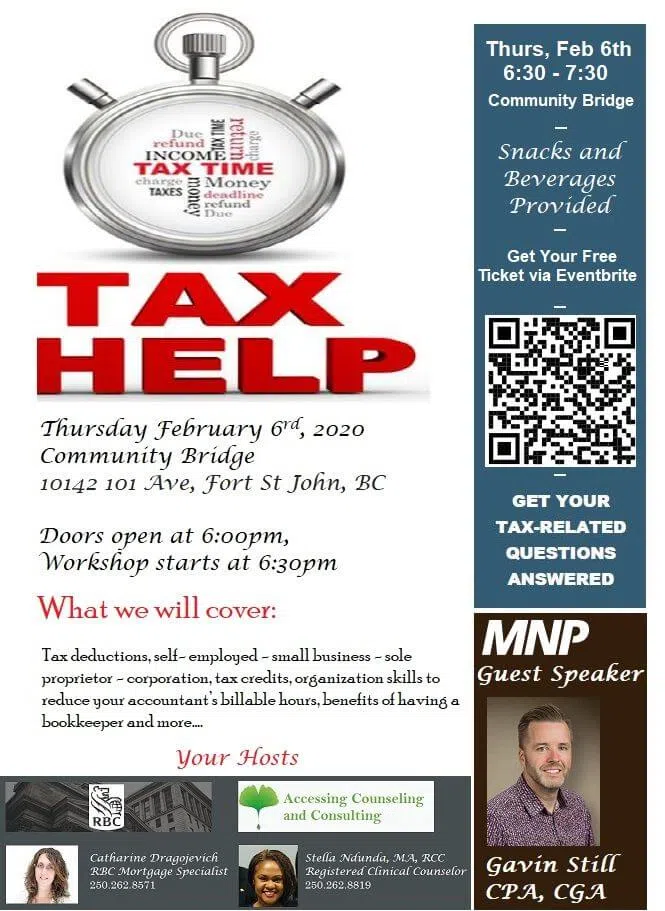 The Tax Workshop will host special guest speaker, Gavin Still CPA and CGA from MNP and will cover topics such as;
The Tax Workshop is being held at Community Bridge located at 10142 101 Avenue. Thursday, February 6th, 2020, the doors open at 6:00 pm and the Workshop starts at 6:30 pm.
Catherine Dragojevich, RBC Mortgage Specialist and Stella Ndunda Registered Clinical Counsellor have teamed up for a joint goal to increase women's financial IQ by talking about money issues in a safe environment.
For a link to the FB Page Event; CLICK HERE
For free tickets to the event visit http://www.eventbrite.ca
Thanks for reading!
Energeticcity.ca is the voice of the Peace, bringing issues that matter to the forefront with independent journalism. Our job is to share the unique values of the Peace region with the rest of B.C. and make sure those in power hear us. From your kids' lemonade stand to natural resource projects, we cover it – but we need your support. Give $10 a month to Energeticcity.ca today and be the reason we can cover the next story. 
More stories you might like