FORT ST. JOHN, B.C. – The Fort St. John Fire Department is sharing its Put a Freeze on Winter Fires campaign.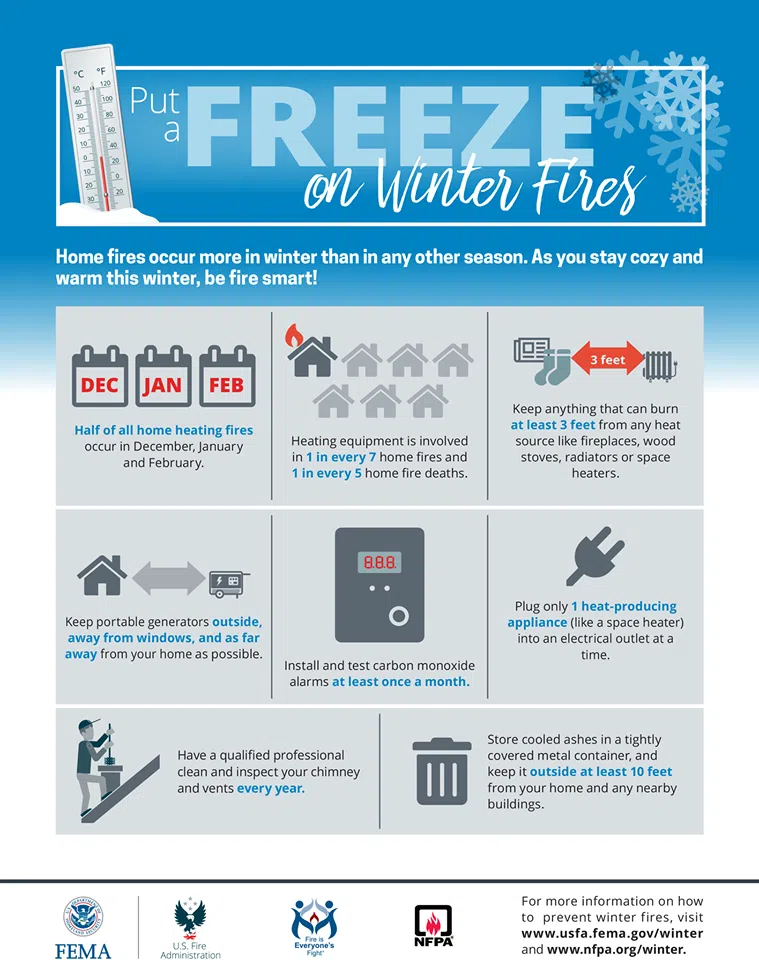 The Fort St. John Fire Department shares, people are trying to keep warm this month, which means an increase in in-home heating equipment such as fireplaces and electric heaters.
According to the Fire Department, half of all home heating fires occur in December, January and February. Going on to say heating equipment is involved in 1 in every 7 home fires and 1 in every 5 home fire deaths.
The Fire Department shares, by following these simple steps will help to keep you and your family safe (and warm) this winter season:
1.) Keep anything that can burn at least 3 feet from heat sources
2.) Plug only 1 heat-producing appliance (like a space heater) into an electrical outlet at a time.
3.) Install and test Carbon Monoxide alarms at least once a month.
4.) Keep portable generators outside, away from windows and as far away from your home as possible.
5.) Have a qualified professional clean and inspect your chimney and vents every year.
Thanks for reading!
Energeticcity.ca is the voice of the Peace, bringing issues that matter to the forefront with independent journalism. Our job is to share the unique values of the Peace region with the rest of B.C. and make sure those in power hear us. From your kids' lemonade stand to natural resource projects, we cover it – but we need your support. Give $10 a month to Energeticcity.ca today and be the reason we can cover the next story. 
More stories you might like